Meet Apollo, the ultimate nice guy who always ends up getting a bum wrap.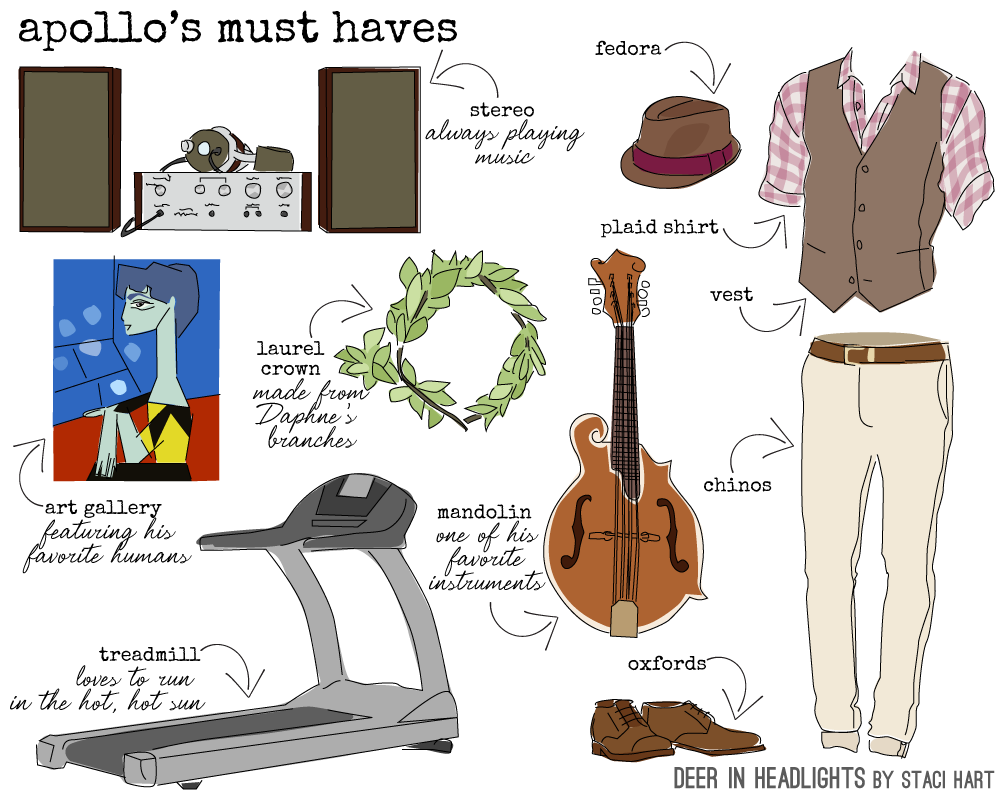 Apollo in under 100:
An honest, happy-go-lucky loner. He's good at almost everything he does, but often gets a raw deal because he lacks the cut-throat attitude that most of the other gods possess. He's the god of art, music, the sun, and prophecy, among other things. His twin sister, Artemis is his closest ally, and has been mourning the loss of his cursed love for thousands of years. This competition is a rare chance to get her back, and he'll do anything to win.
Profile:
God of: Music, Art, Sun, Health, Archery, Prophecy
Looks like: 6′ tall, tan, blond, blue eyes, lean but muscular, pretty mouth
Animals: Roe Deer, Raven
Symbols: Laurel, Lyre, Bow and Arrow
Quotes:
"You should call it now and save yourself the trouble of dragging it out. Trust me. They don't call me the Oracle of Amazing Awesomeness for nothing." 
***
"It's not over until the fat lady sings, and Hera's been mostly silent, so it seems I still have time."
***
Artemis turned her gaze back to him. "Has it been worth the pain that you have been through over Daphne?"
"Artemis, the moment she is in my arms, all will be worth the price I have paid."
***
"And now, beloved, you have guessed my second specialty—songs for love." He leaned forward and kissed her lightly, then strummed and sang, the song so sweet, so full of the love in his heart, that tears rolled down her freckled cheek, her face alight with her joy.
When he stopped playing, he could do nothing but move to her to kiss her tenderly, completing the circle of what he could tell her not with words, imparting his love through his touch. She twined her arms around his neck, and he held her small waist as he laid down and pulled her on top of him. Her red curls fell around them like a curtain, the light beaming through as the sun flashed with the beat of his heart.
Apollo's Style Board
Apollo's Playlist
 About the book
18+ 
Aphrodite never loses, not when it comes to love.
Immortality has its perks and its downsides. Boredom, for one, is unavoidable, but instead of playing parcheesi, the gods devised a game that uses humans as pawns. Remember Shakespeare? That was Apollo. Bonnie and Clyde? Aphrodite versus Ares.
Aphrodite is on deck once again, and she'll defend her domain of love as she works to get the humans together before the clock runs out, while her opponent tries to keep them apart.
Game one is against Apollo, and Aphrodite knows she has her work cut out for her when he chooses Dean, a brooding rock star man-whore who believes women can't be trusted. Aphrodite decides on Lex, a perfect match for Dean, even though her heart is guarded, locked away tight. She'd never let anyone in. Not ever. Of course, she hasn't met Dean.
But there's always more at stake than just the game when you've lived for thousands of years. The Olympians are the original dysfunctional family, surviving eons of love and lust, betrayal and lies, as friends and enemies, through feuds and wars. From Ares, the douchebag, who's forever trying to start a fight and get Aphrodite into bed, to Persephone, her best friend, who she can always count on for a healthy helping of bacon on a bad day, the gods will take you on a lighthearted trip as they mess with humans, laugh and fight, lose love and gain power.